Paris-Roubaix is ​​always great to watch, but it's also a crazy race. No matter who wins, you always come away wondering – what if? Across those sectors of pavé, there are always many mishaps and little bits of bad luck that can make all the difference in the end.
Mathieu van der Poel completed an impressive classic cobbled campaign with a solo victory. But when his old rival Wout van Aert hit the track, he must have been wondering how different the result could have been without two decisive holes.
Yes, two holes. Van Aert's puncture at Carrefour de l'Arbre, just as he went on the attack, will be remembered as the picture of the finish, of course. But his Jumbo-Visma teammate Christophe Laporte's puncture at the Trouée d'Arenberg with 70 kilometers to go had already changed the dynamic of the race.
Jumbo made a totally unexpected move with their attack on the cobbles at Haveluy. They split the race there and that was the deciding moment, because that was basically the beginning of the winning move, with over 100km to go. It also seemed like a good situation for Van Aert because he looked really strong, and Laporte was with him.
But in Arenberg Forest, Laporte punctured, and I think that was really decisive. It affected Wout's tactics from there, as he was now suddenly outnumbered by Van der Poel, who had two Alpecin-Deceuninck teammates – Jasper Philipsen and Gianni Vermeersch – up front. We don't know what the outcome would have been had Laporte not punctured, but his absence certainly affected Wott's tactics in the race and his mentality from there.
With Laporte, Jumbo had another option and a rider to send when attacking or to take control of the group. I mean, just look at how well Philipsen has been driving Van der Poel. Without Laporte, Wout would have had to race differently.
In the end, Matthew attacked two or three times, while Woot only followed him. To me, this was a sign that Wout was planning to go one step at a time and get really deep – that no one else could follow. That's definitely what I was thinking as I watched the race.
Mathieu's attacks were painful – you can see them on Stéphane Kong's face when he accelerated after Mons-en-Pévèle – but at times, he also looked tired and worn out. I don't know if this was just a trick for the cameras or if he was really feeling the stress of racing at 47kph.
Van Art didn't attack as much, but it seemed like his great efforts caused more damage. The first, between Haveluy and Wallers, is the race section and I think it was very expensive for Filippo Ganna, who had to expend a lot of energy – maybe too much – to get back. Wout's second attack on Carrefour de l'Arbre also gave everyone a hard time. It took Matthew a while to get him back in there – and even when he did realise, was it because of the hole?
We will never know. In the end, I don't think it's simply that Matteo was the strongest on Sunday. I'm not sure it was. But Paris-Roubaix isn't just about being strong, it's also about avoiding bad luck.
And I think Van Aert's puncture was really a case of bad luck. The Jumbo had the adjustable compression system, I don't know if Wout was on my tube or not, but this sounded like a snake bite hole to me.
Anyway, I don't think it was Wout's fault, I don't think you can say he made a bad mistake. It certainly wasn't that different from the way van der Poel rode the stones. He could have had different holes too – but he didn't.
It's sad to have two great competitors like that up front just because bad luck made such an impression. But that's part of the game, and that's part of the race. This is Paris-Roubaix.
Degenkolb
Bad luck was also a factor for John Degenkolb, who surprised me in a really good way with his performance. I was so happy to see him out there fighting for the win again and then I was really sorry to learn how his challenge ended in a crash.
I don't think anyone was really wrong, it was just one of those things that can happen in a race like Paris-Roubaix. Matthew wanted to try to attack while Degenkolb was coming, and they couldn't avoid him. On the other hand, Matthew almost crashes again when alone in front of Hem, but manages to stay straight. A few millimeters can make all the difference.
Meanwhile, Stefan Kong was one of the few men at the front of the race to avoid any crashes, punctures or near misses. He did everything right, really, but he had an empty tank at the end when Wout and Mathieu were gone. Ganna may have spent a lot of energy chasing through Arenberg, but he was in the same position as Stefan in the end.
It's hard for Stefan and Filippo, because they've shown they can transfer their power to the cobblestones of Roubaix, but they just ran into guys who were better than them. It's that easy. On the one hand, it's very frustrating. On the other hand, it's just the reality of racing.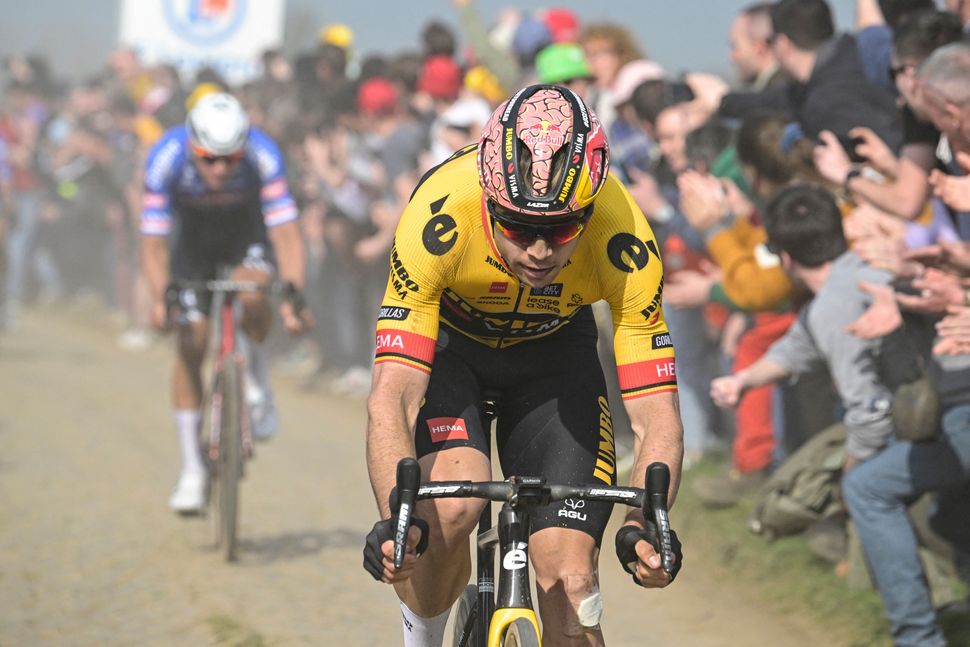 Van der Poel gets the balance right
Paris-Roubaix isn't just about the decisions you make in the race, of course, it's also about the decisions you make up front. At the end of the super-crazy classics campaign, Mathieu came away with a monument, while Wout had to be content with winning the E3 Harelbeke.
Wout was lacking a bit of luck, but he was also missing something in his condition, at least in the races before Paris-Roubaix. In the future, he will probably need to focus more specifically on the classics, because you can't do everything. Perhaps that was the difference between him and Matthew this spring.
Matthew is still cycling and mountain biking, but on the road he has focused a lot on the classics, and we can see the results. Wout, on the other hand, has been going to sprints, time trials, and climbs in recent years, all while doing winter cycling.
Even though Matthew actually did one cyclocross race last winter, I still felt like Wout had a heavier cyclocross program, especially because of the way he raced so much in December and January. Mathieu did a little less well after that, and that paid off a little bit here at the Classics.
You can't do everything all the time. One day you pay for it. I think Ganna is in a similar position to Wout, as I think he would benefit from putting the track aside and focusing more on the road. When I was racing myself, I eventually had to choose between time trials and classics. I realized that when you do something, you have to do it right.
A week ago we were all wondering if Tadej Pogacar could win all five milestones, and now the same question will be asked of Van der Poel, who has won Milan-San Remo, the Tour of Flanders and Paris-Roubaix.
Mathieu finished sixth in Liege-Bastogne-Liege and tenth in El Lombardia in 2020, which shows his range, but I still think it will be really difficult for him to complete the full range. On Il Lombardia, that long climb before Como is too hard for him, I think, even if it's worth a try.
But this is for the future. For now, Matthew can celebrate spring as he totally got it.
"Student. Incurable problem solver. Amateur baconaholic. Introvert. Infuriatingly humble music fanatic."