Dozens of police raided a university in Lima on Saturday, smashing gates with armored vehicles, firing tear gas and detaining more than 200 people who had come to the Peruvian capital to take part in anti-government protests.
Pictures showed dozens of people lying on the ground at San Marcos University after the sudden police operation. Students told The Guardian they were pushed, kicked and clubbed while being forced out of their dormitories.
Police raid on San Marcos University – the oldest in The Americas – is the latest in a series of insults that have led to growing calls for President Dina Boulwart to step down after six weeks of unrest that claimed 60 lives, while leaving at least 580 injured and more than 500 arrested.
the demonstrations It began in early December to support ousted former President Pedro Castillo but turned overwhelmingly to demand Boulwart's resignation, the closure of Congress and new elections. Boluarte was Castillo's vice president and replaced him after his attempt Shutter conference He rules by decree on December 7th.
Several of those arrested in Saturday's raid traveled from southern Peru to the capital to take part in last Thursday's demonstration, dubbed the Capture of Limawhich began peacefully but degenerated into running battles between demonstrators and riot police amid stone-throwing and swirling tear gas.
in a statement on TwitterThe Office of the UN High Commissioner for Human Rights called on the Peruvian authorities to "ensure legality and proportionality". [police] Intervention and guarantees of a fair trial." She stressed the importance of the presence of prosecutors who were absent from the first hours of the raid.
Students living in the residence halls said they were violently forced out of their rooms by armed police, who broke through the doors and used shoves and kicks to get them out.
Esteban Godofredo, a 20-year-old political science student, received medical treatment for his leg injuries. "He hit me with his stick and threw me down and started kicking me," Godofredo told the Guardian as he sat on the grass outside the house with a badly bruised right calf.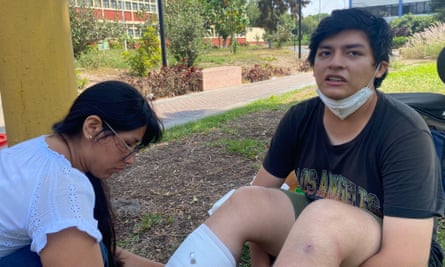 Videos seen by the Guardian showed confused and terrified students crowded outside their halls, some still in their pajamas, as riot police shouted orders and insults. The young men were made to stand against a wall or kneel in a row.
"They pointed their weapons at us and shouted 'Get out.'" Jenny Fuentes, a 20-year-old student, said, "We didn't even have time to get our ID cards. They forced us to kneel. Many girls were crying but they told us to shut up."
"They didn't tell us why we were forced to leave our rooms," she said. The group of about 90 students, who had remained on campus during the summer holidays to work and study, walked to the main courtyard, a 10-minute walk away, where the other people were being held.
Several hours after the raid, they were not allowed to return to their rooms, which were being searched by the police.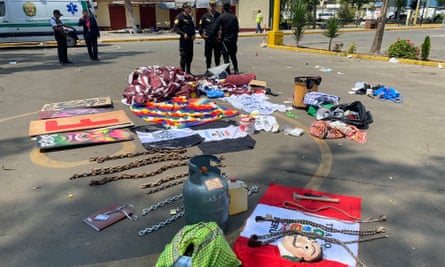 "I was a student at San Marcos [University] Susil Paredes, a congresswoman, told the Guardian that police have banned her from university campuses since the 1980s.
"The police entered the university dormitory, the rooms of female students who had nothing to do with the demonstrators. They threatened them and took them out of their rooms while they were sleeping."
It was a flashback, Paredes said, to police and regular armed force raids on the state university in the 1980s and 1990s, when the campus was seen as a hotbed of vandalism during the state's struggle with Mao-inspired Shining Path rebels.
"We are not at that time, we are supposed to be under a democratic government that must respect basic rights," Paredes said.
Amid demonstrations and roadblocks that have paralyzed much of the country, Peruvian authorities on Saturday ordered the closure "until further notice" of the Inca fortress at Machu Picchu and the Inca Trail that leads to the World Heritage archaeological site – Peru's biggest tourist attraction that brings in more than a million visitors annually.
. "Proud zombie lover. Evil pop culture buff. Amateur thinker. Total food practitioner. Tv evangelist."